Carrying your kiddo constantly is wearing on your arms. Not to say that upper body strength isn't your thing — but without support it isn't easy to keep baby comfortable all day long. Here's where the right wrap comes in!
Baby wraps aren't exactly a modern day invention. According to New York's Hospital for Special Surgery, babywearing is a practice that is thousands of years old. With benefits for both you and your child, this on-the-body option (with a fabric assist) is an alternative that can seriously reduce strain, keep your little one close, and may even help your baby's physical development.
Even though there are reasons galore to choose babywearing, finding the best infant wrap for your needs isn't always easy. From stretchy materials that have plenty of give for the active parent to convertible carriers that you can adjust to fit in a sling, front carry, or back carry mode, you have plenty of options! Here are some of our favorites to get you started.
Benefits of baby wearing
Baby wraps are more than just stylish accessories for the new parent to sport. These fabric carriers can help you transport your child in a way that is comfortable for both of you. They also provide a way for you to keep baby close by. This helps to comfort your child and may facilitate attachment. The La Leche League International notes that babies in slings and similar wraps are typically calmer, often cry less, and can more readily take advantage of the sensory stimuli around them. It's also often easier and more discrete to nurse a baby while they are in an infant wrap. But that's not all.
Wraps also have practical benefits for parents. These carriers allow a hands-free mode of transportation. This makes it possible for you to shop, talk on the phone, send a text, email your co-worker, hold your older kiddo's hand, or do other activities that involve your arms. Convenient, right?
And if you're wondering how wraps affect physical growth, body development and comfort, you'll find even more benefits from this on-the-body option. Provided you use a wrap the right way (the M-position), babywearing may decrease the risk of childhood hip dysplasia, according to the International Hip Dysplasia Institute (IHDI). Along with physical benefits for your baby, use of a wrap can also help to alleviate pressure on your back and neck, compared to holding your infant completely unassisted for long periods of time.
What to look for in a baby wrap
With all the benefits of babywearing, you're ready to invest in a wrap! But what should you look for? Quality is crucial. Flimsy materials could tear or sag, reducing the wrap's overall usefulness and durability. Any wrap you use should fit snugly against your body. This makes fit important. Some wraps have an adjustable one-size-fits-all design, while others have sizes such as small, medium, large, and x-large. An adjustable one-size-fits-all wrap allows you to customize the material to fit your body size and shape.
Make sure the baby wrap is made from a material that is breathable, soft, and comfortable against both your and your baby's skin. If you're active or get hot easily, look for a moisture-wicking fabric that has some stretch or give to it. Other features that can add to the overall comfort of the carrier include straps or the method of wrapping the material across your body, the amount of or length of fabric used, and ease of care. Machine washable fabrics that can go into the dryer are easier for the busy parent who doesn't have time to handwash the item separately or wait for it to line-dry.
Always refer to the manufacturer's size/weight restrictions before using a baby wrap. These will help you to decide if the carrier can hold your baby safely and comfortably.
Boba Baby Wrap Carrier
Best Overall
$45 $50 Save $5
The Boba Baby Wrap Is a stretchy carrier that fits newborns through toddlers up to 35 pounds. Certified as "Hip Healthy," this one-size-fits-all wrap supports your baby in a natural position.
Weight Limit

7-35 pounds

Material

Cotton, Spandex

Number of Carrying Methods

Front-carry
Pros
Four-way stretchy material
Grows with your baby
Machine washable
Cons
Long size isn?t space-saving in a diaper or other bag
The Boba Wrap Carrier is a certified "Hip Healthy", by the IHDI, option that can fit tots up to 35 pounds. This convenient carrier will make your life easier with its hands-free design. "As long as I get her in it while she's calm and content, she will fall asleep and stay in it for a few hours giving me my arms and hands back to handle and care for my 14 month old and do whatever else I need to do that I couldn't if I were constantly having to hold her," exclaims one happy parent user.
The one-size-fits-all style makes it possible to personalize this option. Without the need to choose one specific size, you can customize this wrap to fit your exact body shape.
Don't stress about washing and drying this top pick. The Boba wrap is completely machine-washable. And bonus, you can pop it into the dryer too! So, forget about wasting time waiting for the carrier to dry on a line.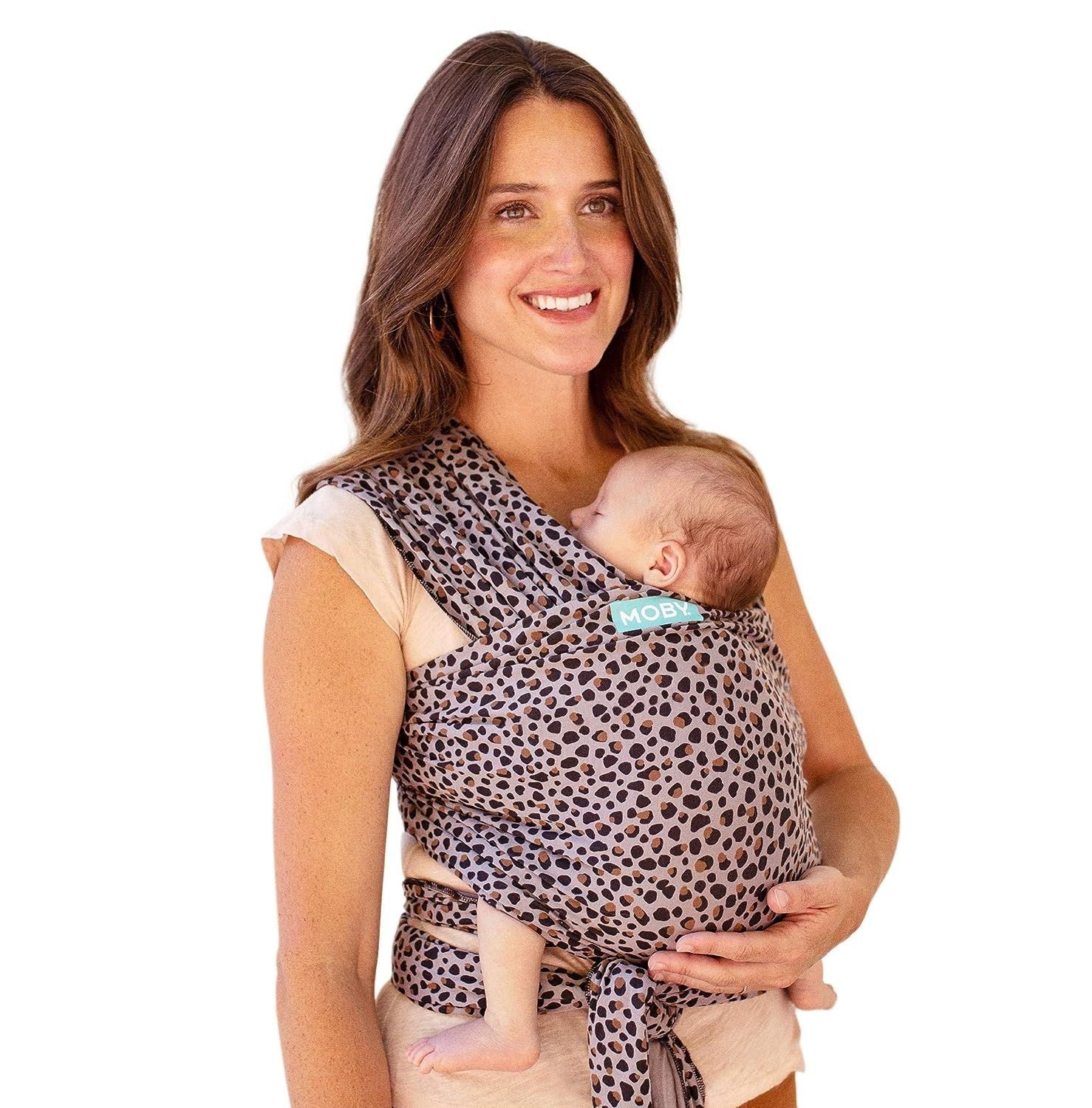 Moby Classic Baby Wrap Carrier
Most Versatile
The cotton Moby Classic wrap fits infants and toddlers up to 35 pounds. Instead of a front-only carry, this versatile pick supports a sideways, back, and in or out front facing position.
Weight Limit

Up to 35 pounds

Material

Cotton

Number of Carrying Methods

Front, sideways, or back carry
Pros
Multiple carrying options
Machine washable
Made from comfortable cotton
Cons
Need to follow instructions for different wrap positions
Are you looking for a versatile carrier? Your search is complete! The Moby Classic baby wrap carrier is an easy, adjustable option. The soft, stretchy fabric will keep baby comfy and help to distribute their weight. This takes some of the pressure off your back, neck, and shoulder.
Not only can you carry your kiddo in a front-facing "Newborn Hug" position, you can adjust the wrap to fit a Kangaroo Hold, sling, and other close-to-you options. "If you're wondering how this wrap really works in-real-life with a newborn, take it from this parent, "The Moby wrap is so perfect for the newborn stage. It's super supportive and really comfortable for both baby and mama."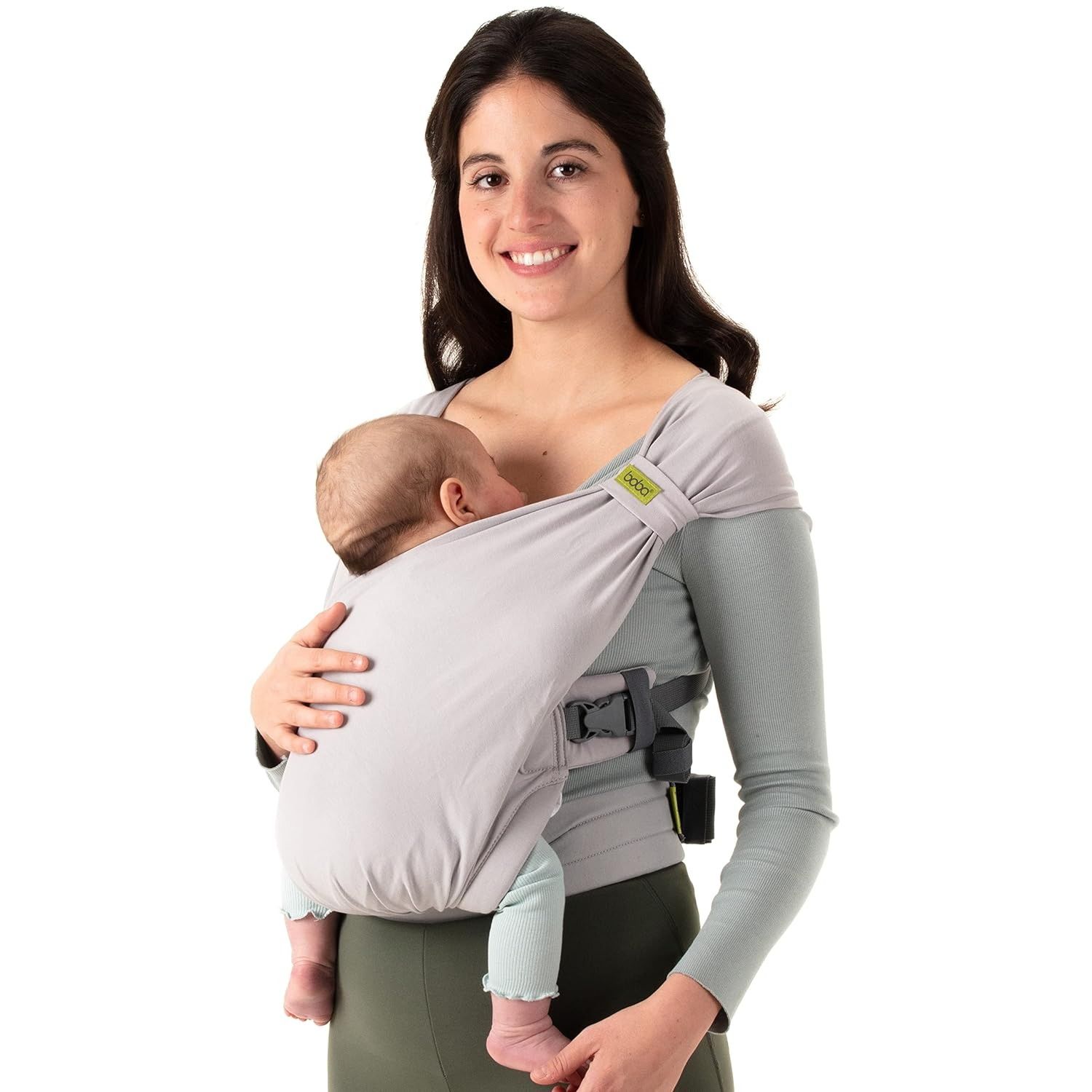 Boba Bliss Hybrid Carrier
Best 2-in-1 Style
The no-tie newborn carrier feature of the Boba Bliss Hybrid wrap makes it easy to keep your kiddo safe while baby-wearing. The carrier fits infants and toddlers up to 35 pounds and has a supportive cross-strap design.
Weight Limit

7-35 pounds

Material

Cotton, Spandex

Number of Carrying Methods

Front carrier
Pros
No-tie option
Certified Hip-Healthy
Breathable machine washable fabric
Even though the Boba Bliss is on the higher end of the baby wrap price spectrum, this carrier is well worth it! The cotton carrier is machine washable and features a no-tie design. This means less time trying to read complicated directions or maneuver around yards of fabric. The certified "Hip healthy" option is a top pick that supports your kiddo from early on (seven pounds) through the toddler time (35 pounds).
Along with a one-size-fits-all style, this wrap has cross straps for added comfort while carrying your tot. This can alleviate some of the excess pressure and make your active life easier. The shape of this carrier isn't just a pressure-reliever. It also adds to the convenience of getting your wiggling, squirming little one in and out of the wrap, "I tried several carriers, and so far this has been the winner. Soft but still with some structure, and my baby is most comfortable getting in and out if it. I like that it's easy to adjust so baby can have her face free on either side."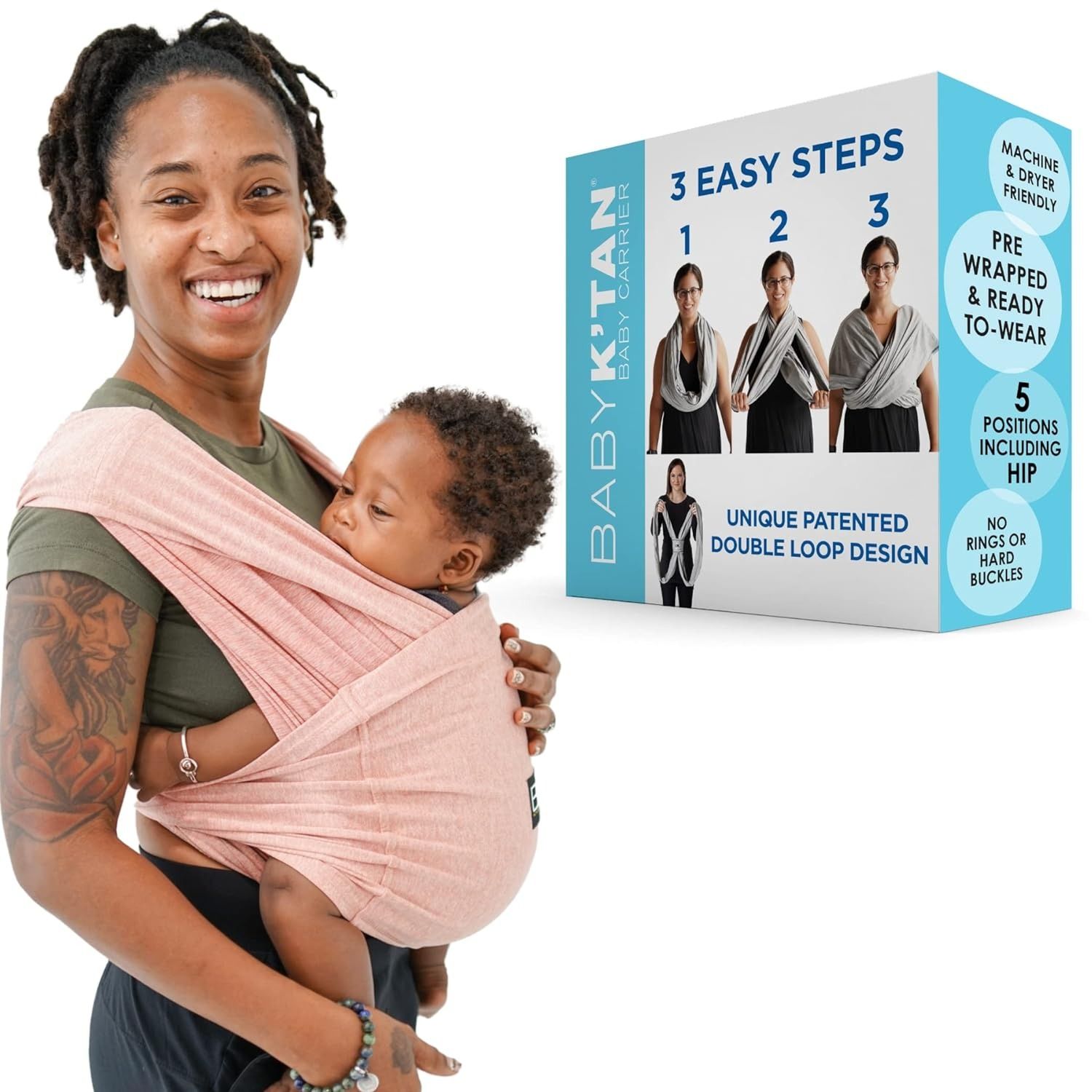 Baby K'tan Baby Wrap Carrier
Best for Active Parents
The Baby K'tan wrap is free of belts, rings, buckles, or complicated folding patterns. This breathable carrier is a no-wrap design and features a high-performance, sweat-wicking fabric to keep both you and your baby dry.
Weight Limit

Up to 35 pounds

Material

Hi-tech performance fabric

Number of Carrying Methods

Front carry
Pros
Breathable fabric for temperature control
Multi-positional
Machine washable
Cons
Need to choose the right size for the best fit
If convenience is crucial – and when isn't is? – then this wrap is for you! The Baby K'tan Baby Wrap Carrier is a no-wrap wrap that is free of belts, buckles, and rings. Instead of cocooning yourself in the wrap like a literal mummy, this multi-positional fits over your head like any other top that you would wear.
The hi-tech performance fabric may remind you of your workout gear. And, that's no coincidence. This sling is made for the active parent. It's breathable and will keep moisture away from both you and your baby. "Fabric is very breathable. I could feel the breeze coming through when it was stretched to a single layer, so I was able to stay about as cool wearing my daughter as I feel carrying her," according to one parent who was looking for a lighter weight option.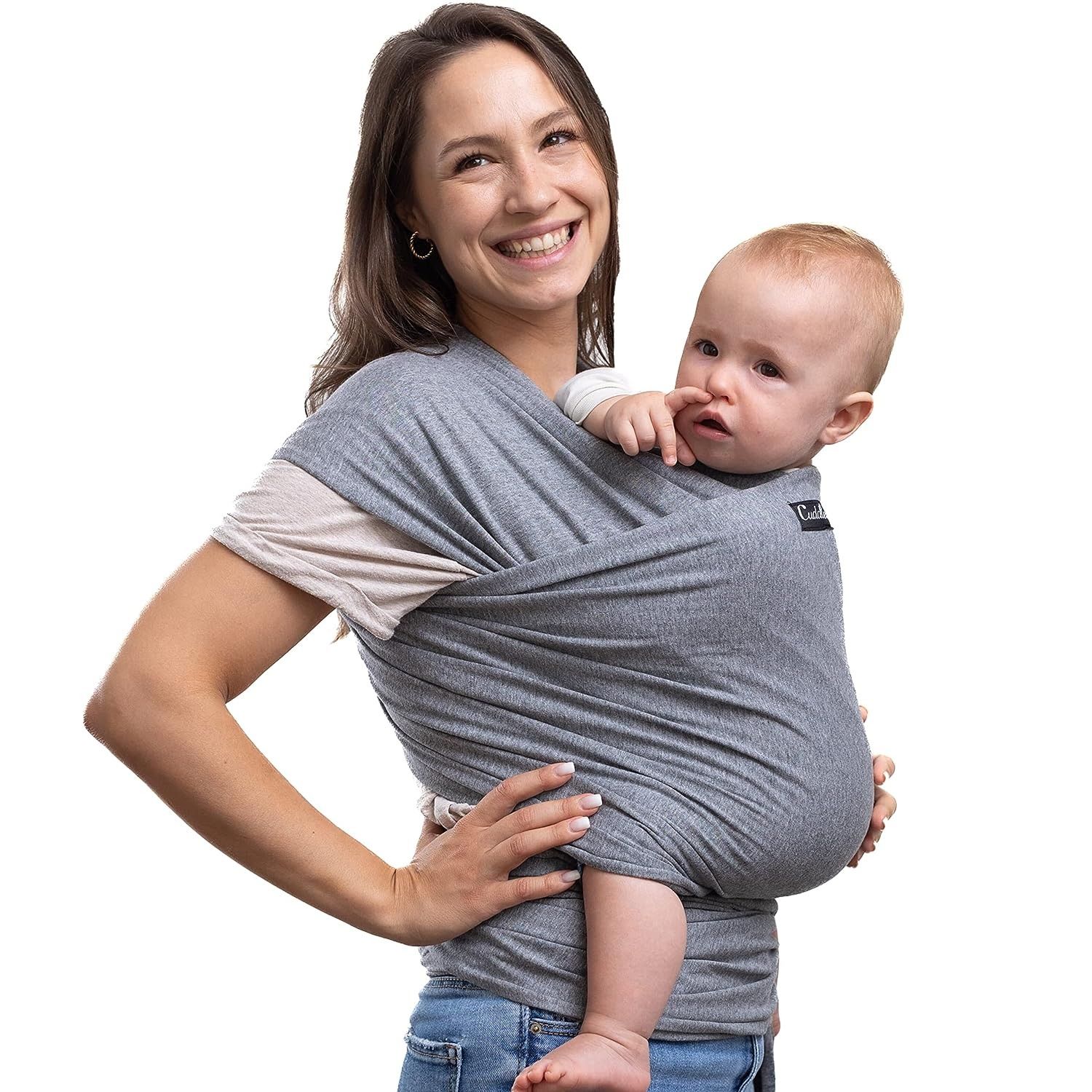 CuddleBug Baby Wrap Sling + Carrier
Best for Toddlers
$27 $30 Save $3
Cuddlebug's baby wrap can carry a tot up to 36 pounds, comes in a one-size-fits-all design, and features a stretch fabric material makeup.
Weight Limit

Up to 36 pounds

Material

Cotton, Spandex

Number of Carrying Methods

Front carry
Pros
Price
Lifetime manufacturer?s warranty
Machine washable
Cons
Thick fabric may be too hot for summer use
The CuddleBug Baby Wrap Sling + Carrier is a toddler-friendly option that holds little ones up to 36 pounds. While this wrap is made from a soft, comfortable cotton fabric and is completely machine washable, it's possible the best part is the warranty. Instead of one or two years, this wrap comes with a lifetime manufacturer's warranty.
Forget about sore shoulders and a tired back with the CuddleBug carrier. This top pick has an ergonomic design and crossed straps to keep you just as comfortable as your baby – well, almost, at least. The one-size-fits-all design gives you a custom fit and helps to keep your kiddo even closer to you. This adds to the wrap's safety and will give you plenty of extra snuggle time. And, of course, the hands-free feature of a wrap carrier will make just about everything easier, as this parent raves, "This wrap has seriously saved my life. It's the only way I can get anything done around the house."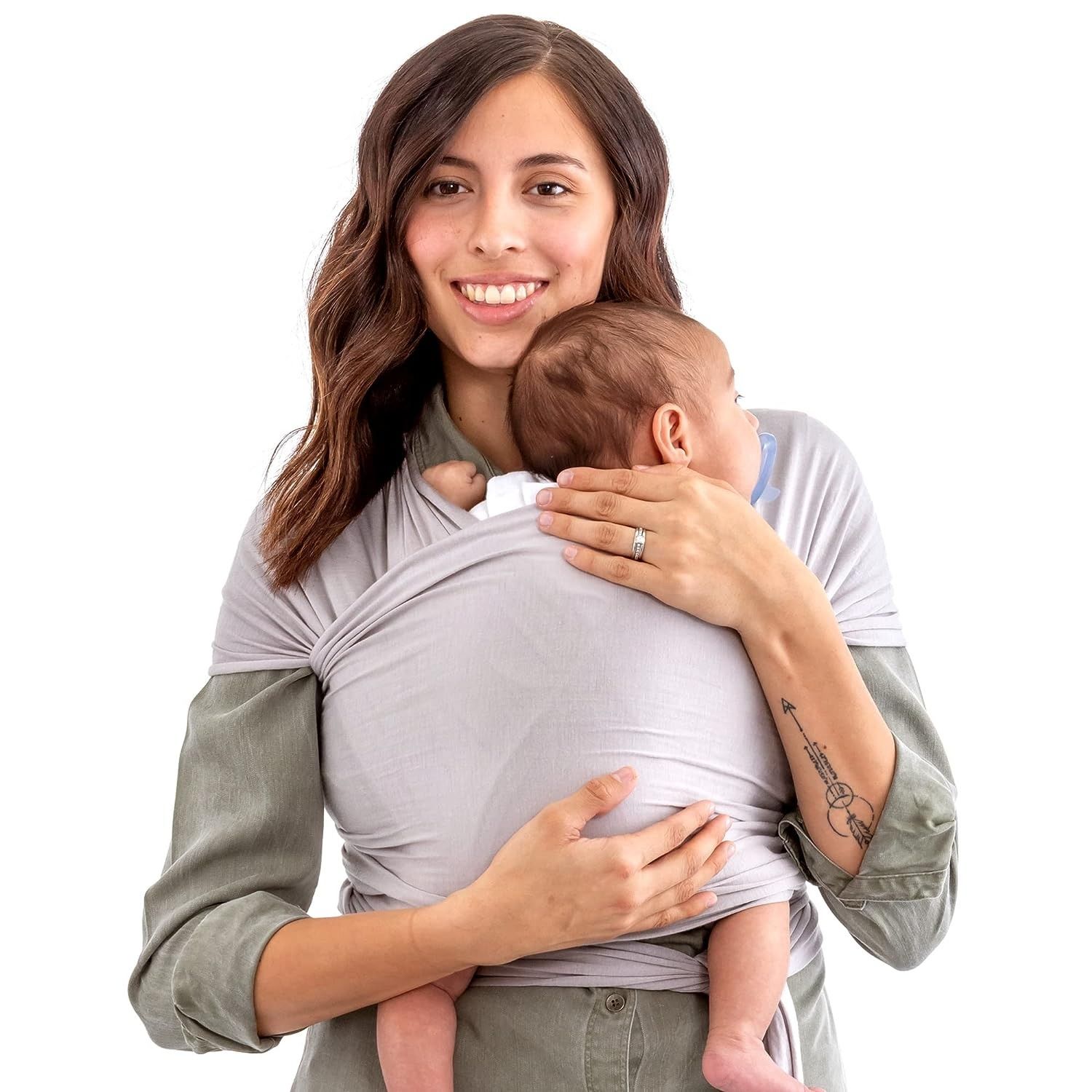 WeeSprout Baby Wrap
Best Value
This stretchy lenzing modal carrier wrap is tag-free, machine washable, and has a one-size-fits-all style. The WeeSprout wrap is also dryer safe and has a built-in storage pocket.
Weight Limit

Up to 25 pounds

Material

Rayon Lenzing Modal

Number of Carrying Methods

Front carry
Pros
Adjustable fit
Machine washable and dryer-safe
Lightweight fabric
The WeeSprout Baby Wrap is comfortable, provides a way for you to carry your kiddo in style, and is made from an eco-conscious Lenzing modal material. As a top value pick, you'll get your money's worth with the WeeSprout carrier. With plenty of stylish color choices, a tag-free design, and an ultra-breathable fabric makeup, you'll look as good as you feel when you use this cute wrap.
An adjustable tie makes it easy to customize the size for your shape and to fit your growing child. This means you can continue to use the wrap as your kiddo goes from the newborn weeks through infancy and into the early toddler years. "You control the tightness of it so it adjusts to any baby, my baby was 6 pounds when I first used it and she's currently 10 and it's just been so easy to get around and run errands. And she loves it!"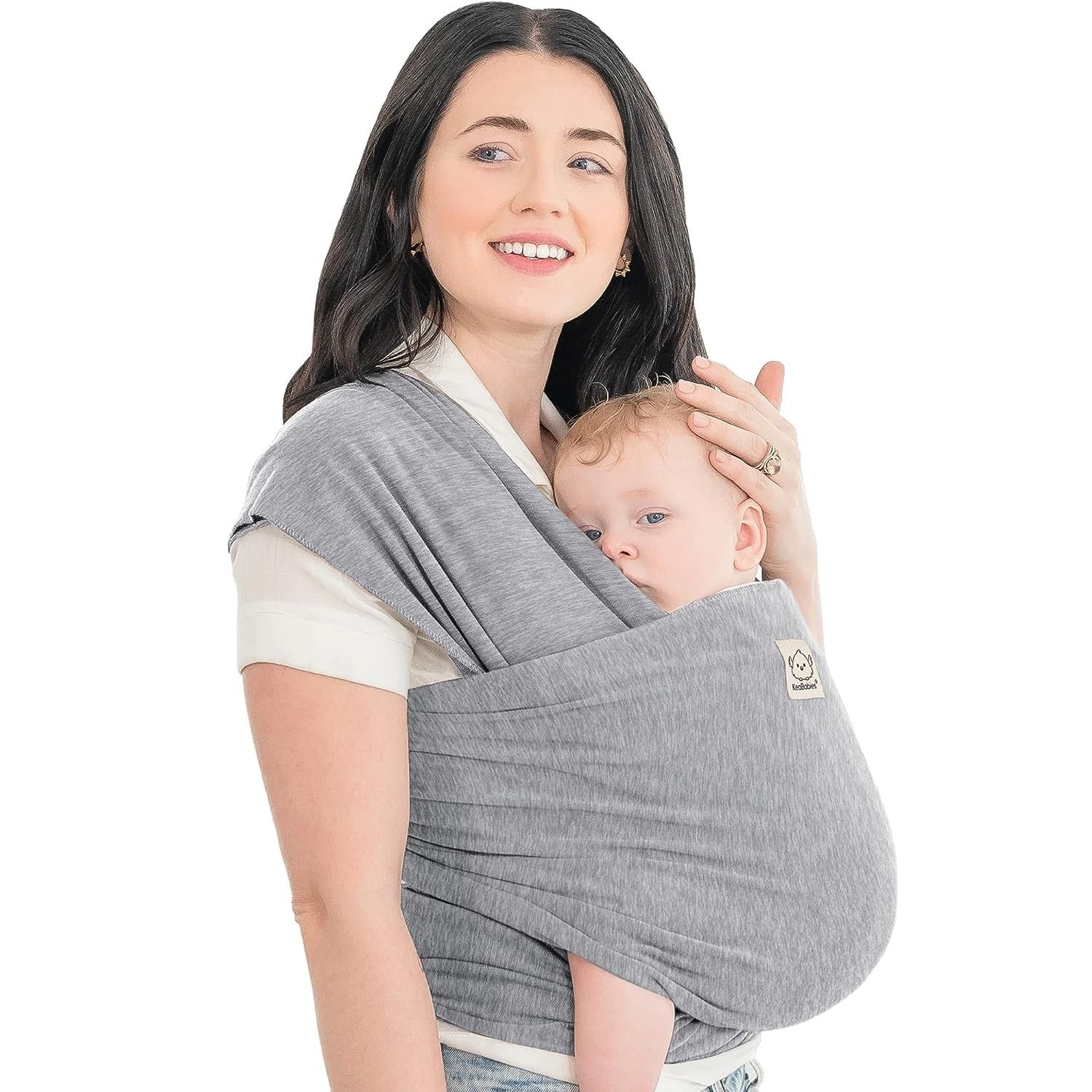 KeaBabies Baby Wrap
Best Breathable Fabric
$27 $43 Save $16
The KeaBabies wrap is ergonomically designed and certified by the International Hip Dysplasia Institute. The one-size-fits-all design is made from a breathable, stretchy material.
Weight Limit

Up to 35 pounds

Material

Proprietary woven-tech fabric

Number of Carrying Methods

Front carry
Pros
Breathable fabric
One-size fit
Machine washable
An ergonomic design makes the KeaBabies Baby Carrier Wrap comfortable to use while you're on-the-go. Not only can you wear this genius device with your kiddo, it also works as a pregnancy support band and a nursing cover! Certified by the IHDI, the wrap will also reduce the risks of dysplasia and help to promote your child's healthy hip development.
Recommended for infants and toddlers seven through 35 pounds, the proprietary woven-tech fabric will hold your child snug and near. And, that may mean a less cranky baby. "He was fussy before I put him in the wrap but as soon as I put him in he was calm and liked being close to my warm body." Just because the fabric has the word "tech" in it doesn't mean it's hard to care for. This material is machine washable and can go into the dryer on a low or tumble setting. If you're not sure about the fabric's fit, you can adjust this wrap to fit frames from XS to 3XL.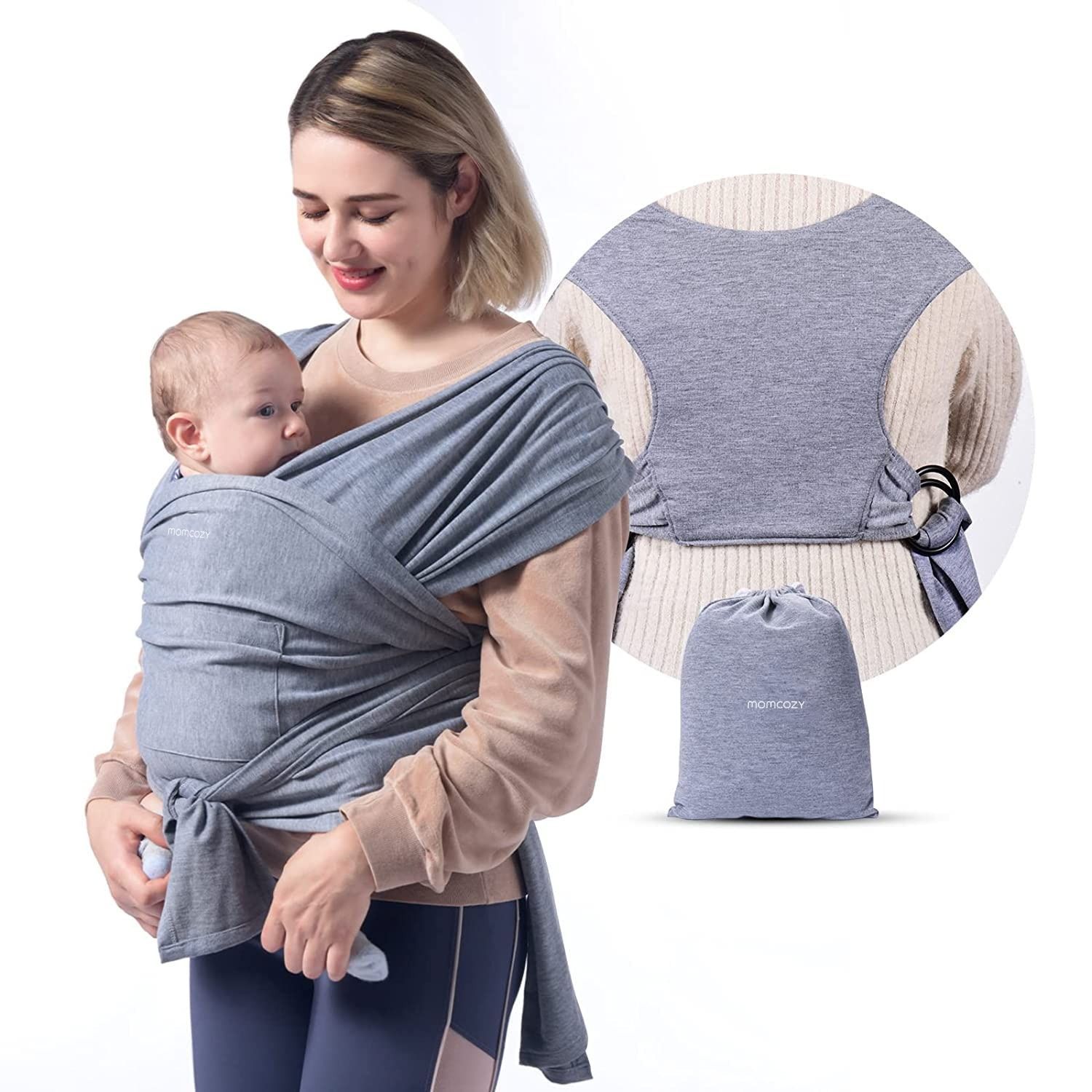 Momcozy Baby Wrap Carrier Sling
Best Adjustable Carrier
$29 $34 Save $5
Made for tots weighing up to 50 pounds, the Momcozy baby wrap is an adjustable carrier that fits parents XXS-XXL. The ergonomically designed carrier supports baby and distributes their weight easily.
Weight Limit

Up to 50 pounds

Material

Polyester, Spandex

Number of Carrying Methods

Front carry
Pros
Higher weight max range
Adjustable
Machine washable
Cons
Straps instead of a true wrap design
Do you plan to babywear well into the toddler years? If you answered yes, the Momcozy Baby Wrap Carrier Sling is a wrap to seriously consider. With a max weight of 50 pounds, this carrier goes well above and beyond what other models offer. It also features an adjustable size for parents that fits XXS through XXL.
Forget about complicated wrapping techniques here. The Momcozy carrier fits over your head like a t-shirt. The material is lighter weight and breathable, making it skin-friendly for both you and your baby.
The over four-star rated wrap has more than 5,600 Amazon reviews – most of which are glowing recs for the carrier. This pretty much sums it up, "I can't say enough good things about the Momcozy Baby Wrap Carrier Sling. It has quickly become a lifesaver for me as a parent."
Important safety tips for baby wraps
While baby wraps can help to increase bonding, may calm your kiddo, make it easy for you to keep your infant close in a totally hands-free way, and can reduce some of the risks of hip dysplasia, the wrong wrap or the wrong use of a wrap could have the opposite effects. This makes safety essential when using any type of baby carrier. According to the American Academy of Pediatrics (AAP), between 2011 and 2020 infant carrier falls accounted for nearly 14,000 trips to the ER—and 15 percent of these injuries resulted in the need for a hospitalization.
To increase safety while babywearing, start with a quality carrier that is durable and fits well. The U.S. Consumer Product Safety Commission (CPSC) recommends making sure that the child's face is never covered by the wrap or sling's fabric. Likewise, the AAP also notes that baby's head should sit above the wrap's material and their neck should rest in a straight position.
Penn Medicine Lancaster General Health recommends that parents and caregivers keep babies facing inward until they are four to six months or have good control of their neck. The IHDI also explains that an inward-facing carry is best for hip development during a baby's first six months. Never allow your baby to fall asleep in an outward facing position and make sure that babies who aren't in a sling style remain upwards. Your baby shouldn't slump or sag in a sling. To get the hip dysplasia reducing benefits of babywearing, your kiddo should sit in the M or jockey position. The wrap should provide support and allow your baby's thighs to flex as their legs form a letter "M" shape.
Some carriers are more complicated than others to adjust or wrap. If you're not sure whether you've wound the wrap correctly around yourself and your baby or if your baby is in the correct position, talk to an expert. Your child's pediatrician or a similar healthcare provider can help you to better understand the best babywearing techniques.