Selecting the perfect stroller for your baby isn't much different than any other big-ticket item that you have on your purchase list before baby arrives. But, of course, you want to do your research first, because choosing a stroller that has the best features for the specific needs for you and your baby can make a huge difference in your everyday life.
Whether you're navigating bustling city streets or heading out on outdoor adventures, the stroller you take along with you becomes an integral part of your daily routine — and that's made so much easier if you have a stroller you love.
But with so many models and options available when it comes to strollers, it can be overwhelming for first-time parents looking to narrow down which stroller will make life easier — and for which situations. Here are our picks to get you started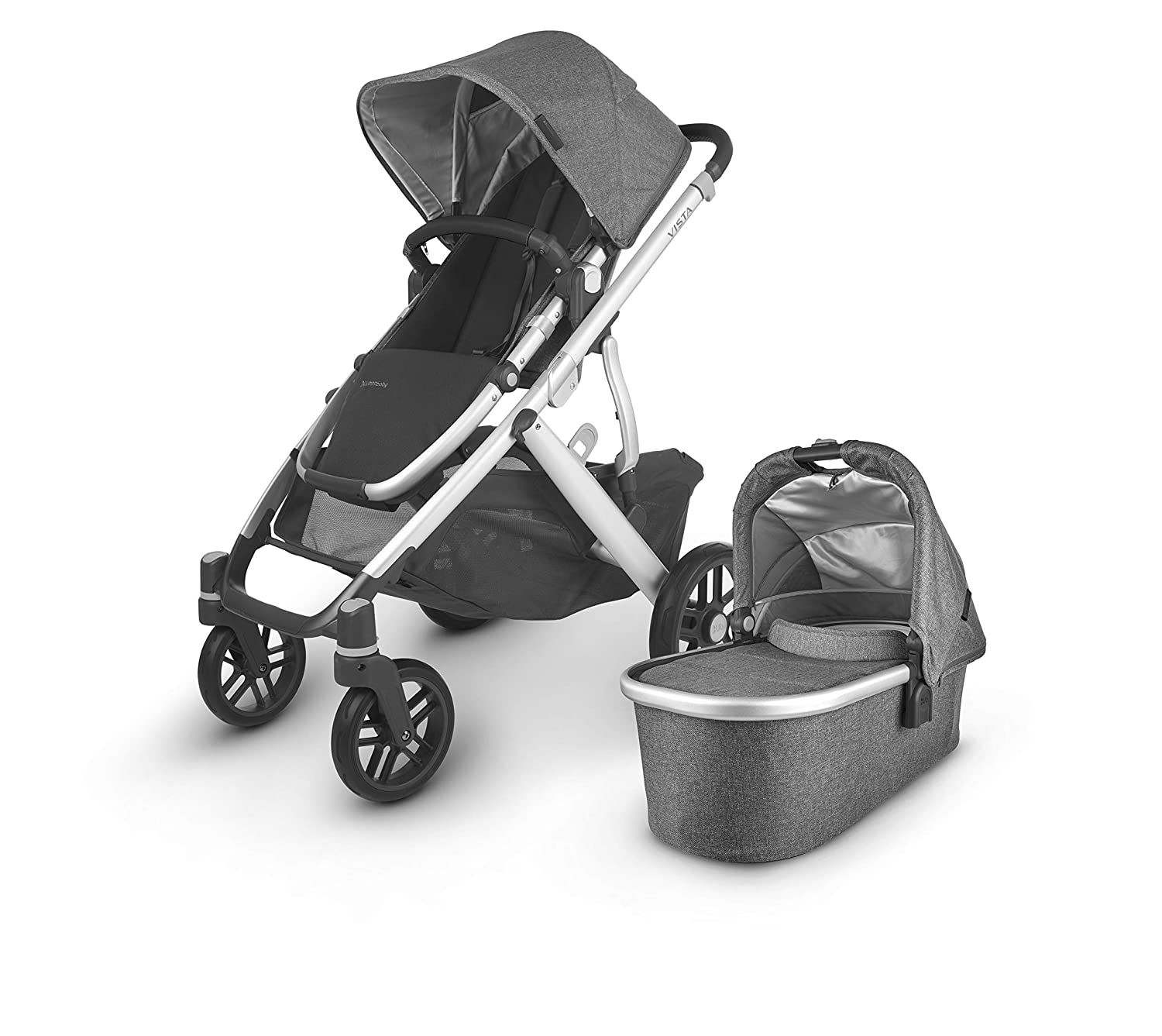 UPPAbaby Vista V2 Stroller
Best Overall
The UPPAbaby VISTA V2 Stroller is the go-to choice for parents who want a full-size stroller with a sleek design that is very different from the strollers our parents used. One of the best features is the accessories which allow you to keep using this stroller as your babe gets older.
The UPPAbaby VISTA V2 Stroller features multiple configurations that ensure its use as your baby grows from a newborn to a 50 lb toddler. The stroller has all the best features that make this a safe and comfortable ride for your baby while keeping the needs of the parent pushing the stroller in mind.
The UPPAbaby VISTA V2 Stroller as a dual-action rear suspension allowing for a smooth ride, an adjustable UPF 50+ sunshade to ensure your baby's protected from the sun, and a no-rethread harness for easy adjustments. It rolls smoothly on larger wheels, has user-friendly wheel locks, and offers a one-handed, multi-position recline for ultimate comfort for your baby.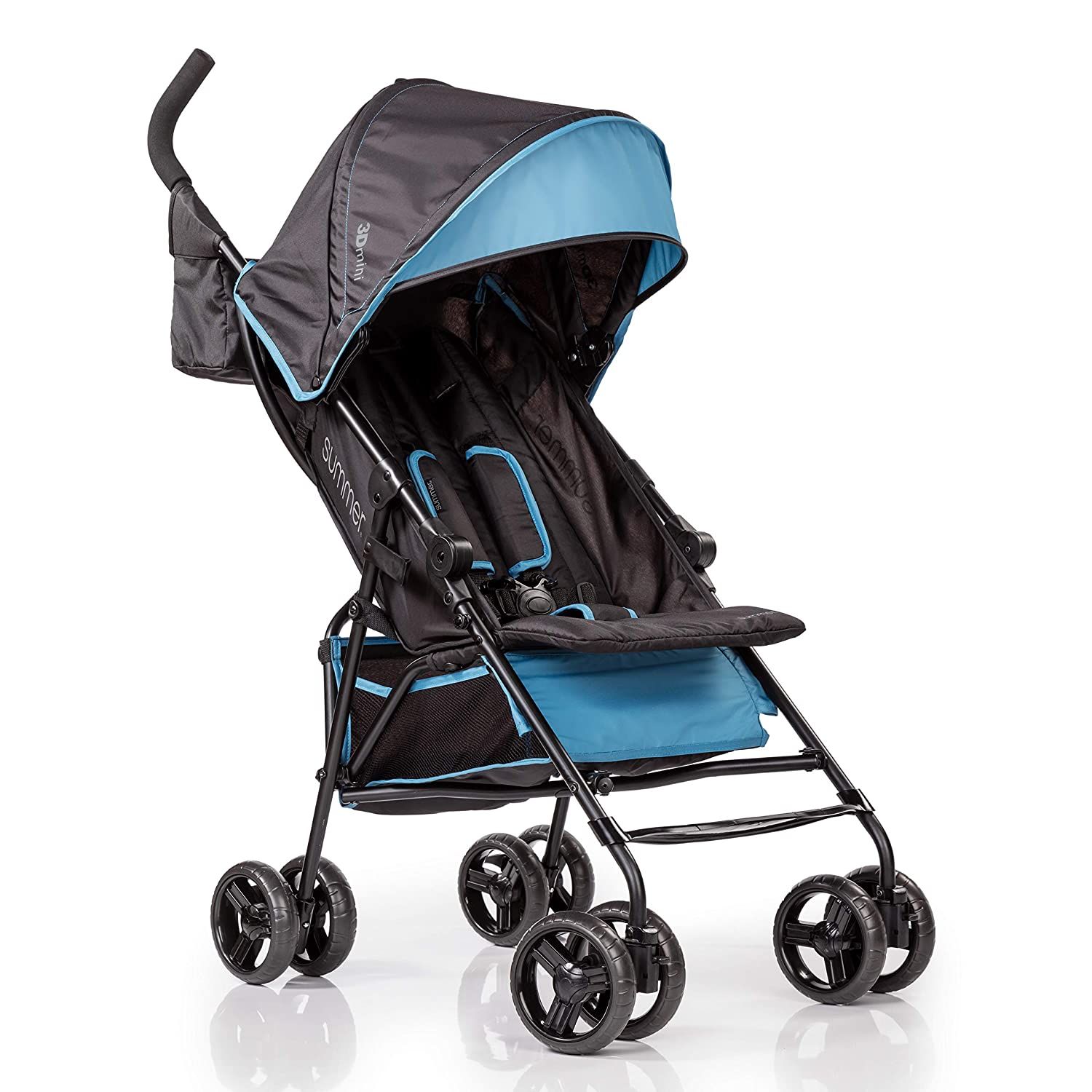 Summer Infant 3Dmini Convenience Lightweight Stroller
Best Value
A fantastic inexpensive, lightweight stroller
This lightweight umbrella stroller offers a ton of features that make it stand out. Its all-aluminum frame strikes the perfect balance between lightweight design and impressive durability, weighing less than 12 pounds with the bonus of being effortless to fold and store away.
The Summer Infant 3Dmini Convenience Lightweight Stroller is the perfect low-cost option for parents who don't want to sacrifice safety or convenience. This stroller has an open design and easy-to-recline seat which makes it a dream for quick baby naps or diaper changes while on the go.This stroller is all about safety, with a sturdy 5-point safety harness that allows the stroller to grow with your kiddo while ensuring a safe and comfortable fit.
The Summer Infant 3Dmini Convenience Lightweight Stroller gets bonus points for its ample storage options, including an extra-large basket, a rear storage pocket, and a cupholder, provide practical solutions for carrying all your essentials.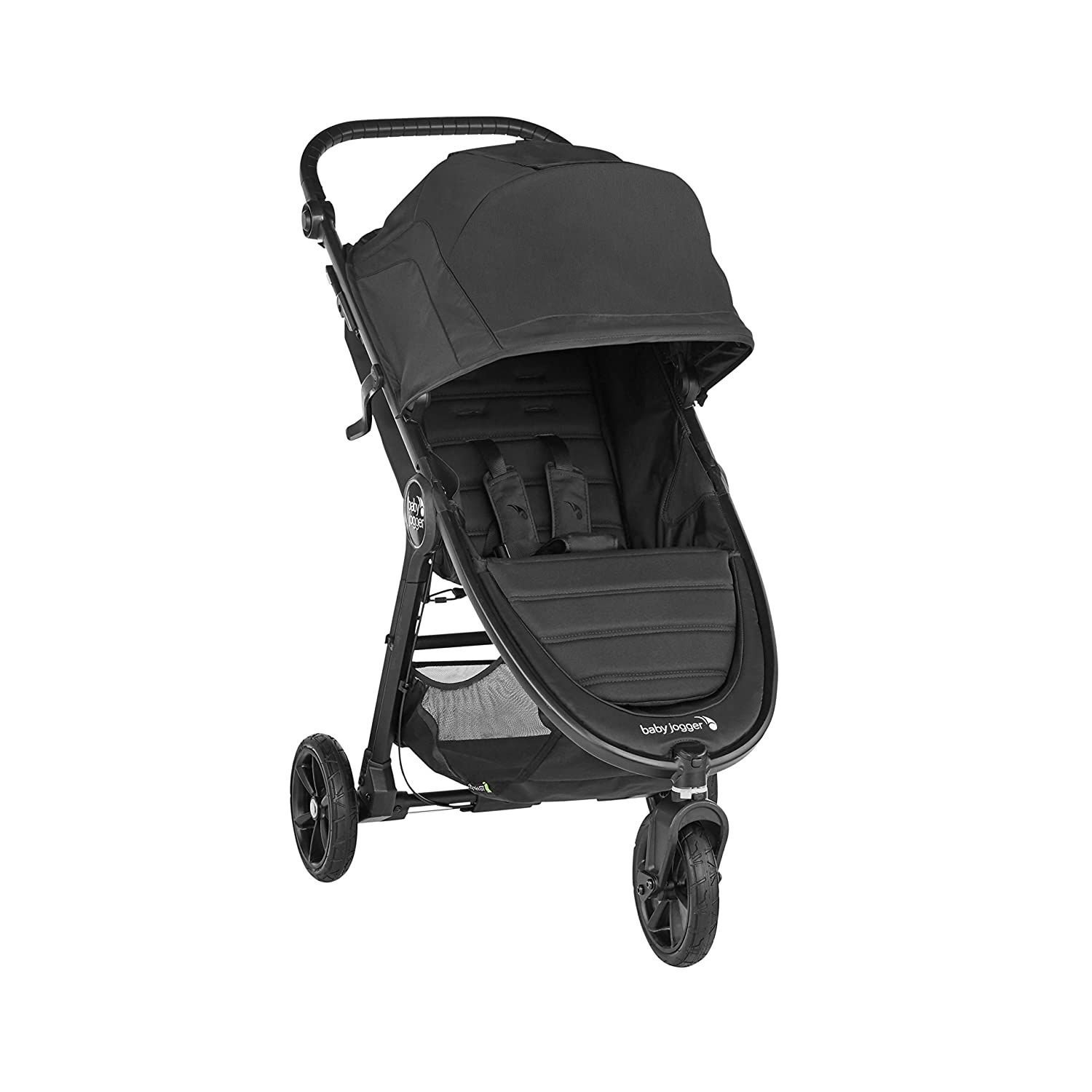 Baby Jogger City Mini GT2 Stroller
Best Jogging Stroller
A one-handed marvel that glides
The City Mini GT2 stroller stands out as an exceptional choice for parents for several reasons. Its one-hand fold mechanism is a game-changer, making it effortlessly convenient to collapse and store, even when juggling a baby and a multitude of other tasks without spilling your coffee.
The Baby Jogger City Mini GT2 Stroller is designed for versatility and style, featuring all the safety features a parents needs while making it easy for parents to use. This stroller features forever-air rubber tires and all-wheel suspension for smooth rides on any terrain, whether you're jogging on the sidewalk or a more leisurely stroll around the neighborhood. It offers convenience with a one-hand compact fold, adjustable handlebar, and hand-operated parking brake.
The Baby Jogger City Mini GT2 Stroller can support a child up to 65 lb, and grows with your baby thanks to its 4 different modes of use with accessories like the infant car seat, a glider board, parent console, child tray, and more.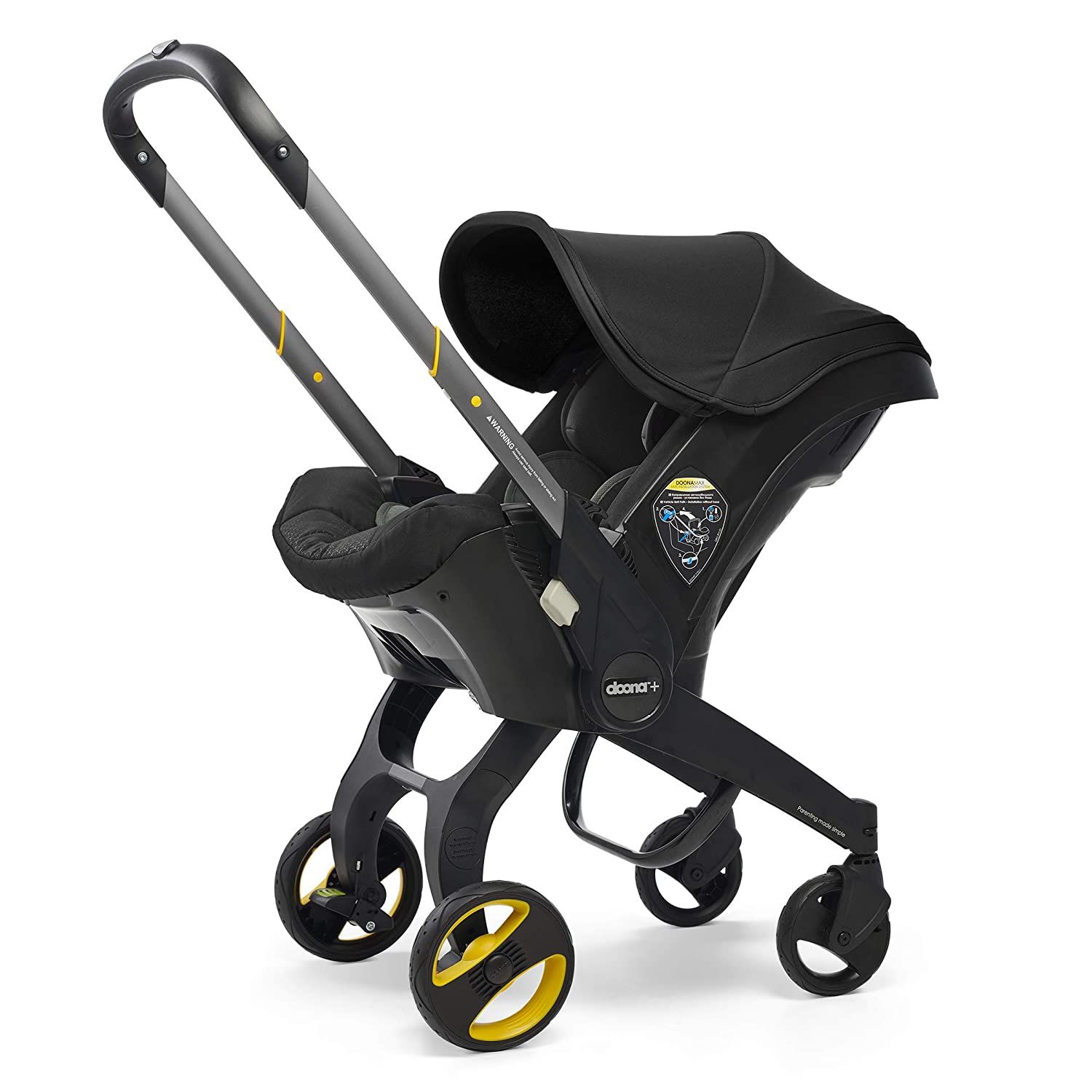 Doona Infant Car Seat and Stroller
Best Travel System
An affordable car seat/stroller combo
The Doona stroller is the ultimate pick for parents who want something really versatile and easy to handle. The best part of this product is that it's not just a stroller, it's also a car seat. This double-duty feature is a lifesaver, especially for parents who are always on the move or those who have to switch between different cars all the time. Plus, it's so easy to use and you can steer with just one hand, making your daily outings a total breeze.
The Doona Infant Car Seat and Stroller is an innovative and versatile travel system that prioritizes convenience and safety. One of its best features is its ability to transition from a car seat to a stroller with ease without compromising safety or style. It's designed to make life a little easier for parents, and is suitable for babies who weigh up to 28.6 lbs.
The Doona Infant Car Seat and Stroller gets bonus points for new and busy parents because it comes fully assembled, which means you can use it straight out of the box and you can easily transition from car seat mode to stroller mode with the click of a button.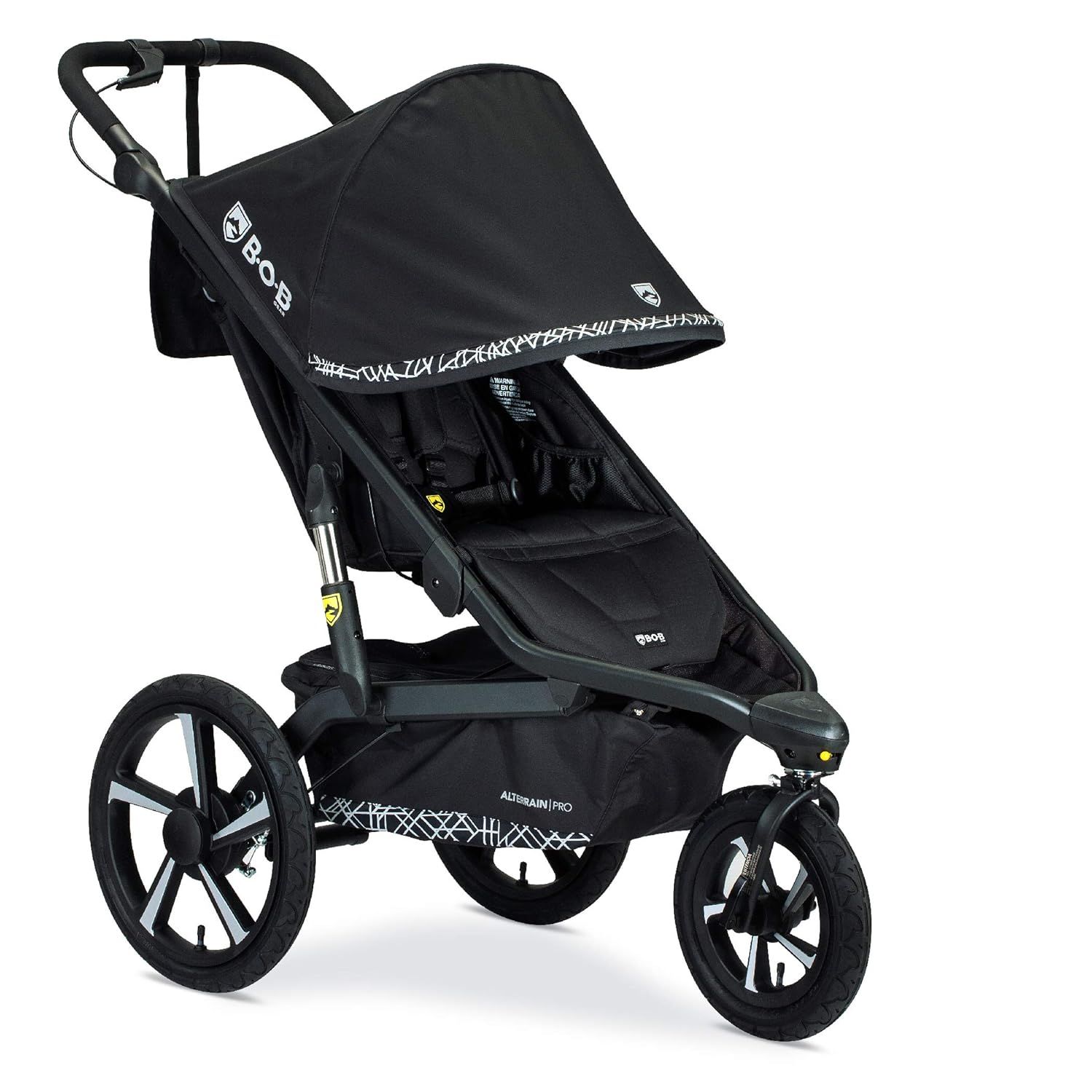 BOB Gear AlTerrain Pro Jogging Stroller
Best Rugged Stroller
An all-terrain stroller for offroading parents
The BOB Alterrain Pro Jogging Stroller offers a safe and comfortable ride for babies and kids up to 75 lbs. It's built for rugged performance both in the material of the frame and the canvas. It ensures a safe and comfortable ride for your child with SmoothSox suspension and all-weather protection, making it ideal for adventurous parents.
The BOB Alterrain Pro Jogging Stroller is designed for convenience and performance, perfect for parents who want to take their kids on adventures. It features a quick, one-handed fold that collapses the stroller with a single twist of the hand, making it easy to take in and out of the car, and easier to store at home. It's made with performance fabrics and reflective rims, which means it's rugged enough to withstand any all-terrain adventures
The BOB Alterrain Pro Jogging Stroller also makes sure the ride is safe and comfortable for your kiddo. It comes with SmoothSox suspension and air-filled tires, which means it's your kiddo is comfort while you're on the go. It also comes with all-weather protection, 100% waterproof and windproof canopy that's UPF 50+, with ergonomic handbrakes for you.
Important Tip:
According to the American Academy of Pediatrics, choosing a stroller should be more than just price and convenience, you'll want one that has all the safety features to keep you and your baby safe. The agency reminds parents that it's important to choose a baby stroller that has a wide base, so that it won't tip over, and to be aware of the weight limits. A stroller should also have easy-to-operate breaks, a five-point harness, and you should never leave your baby in a stroller unattended.